When Hollywood started Kindergarten I was nervous and determined to be one of those mothers who participated in the classroom, got to know each of the kids, drove for all of the field trips, was room mom you know. I did a great job of that but kindergarten was tough but mostly because the teacher was not what we expected. It was hard to walk out of the classroom knowing that the kids were not being treated the way they should have been treated, you know with respect and understanding that these wonderful and bright children were 4, 5 and 6 years old. One of the wonderful and bright point of the year was the friendship we developed with the Maurus family. Tracey, Jim, Harrison and Adeline were such a bright star in a tough year. Even after Harrison changed to ND school we stayed close. When they moved to the Seattle area I helped them by riding and helping with the kids. Tracey was pregnant with Bea then so when I left in early January I had yet to meet the new member of their family.
I got a wonderful call on Friday, Tracey and the kids were here to see her sis Sarah, BIL Matt and nephews Jack and Luke. We were invited to go to the pumpkin patch in Orland with them on Saturday. I was so excited. I hadn't seen them in 10 months but it was like it was yesterday. The kids all played great. Adie even ran up and gave FFP a huge hug like no time had passed at all (FFP doesn't want a girl mostly because he is afraid that she wouldn't be exactly like Adeline). Blondy and Adie used to go hide and play for hours without a disturbance or problem. We would check on them and find them under the blankets in Adie's bed talking away. Good thing they were only 4. Harrison and Hollywood are very similar too. More rambunctious and curious about how things work (and what they can get away with) but a good complement to each other. They played all day without an argument. Bea is so cute. I feel so blessed that although they are so far away we can just pick up where we left off and still be great friends.
Blondy and Adie sittin on the hay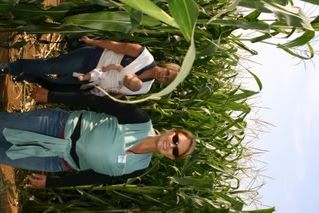 The only pic I got of tracey I had to jump out from behind a corn stalk. She's in the back with Bea, Sarah in front with Luke.
Smartest damn blind collie I've ever met. He could play fetch with the frisbie by listening and smelling. FFP was truely mistified
Bea and her chunky monkeys. She's 5 months old now.
Jack climbing the play structure
the big kids on the hay